​1) Q: Where are your company located?
A: Our company is located in Xiamen City ,Fujian, of China. (zip code: 364004), near Xiamen city of China , you can visit us from your country to Xiamen international airport! It takes around 15 minutes by car from Airport to our Headquarter (Company office)
02) Q: Are you are a direct exporter & manufacturer of stone products from China ?
A: We are an main Chinese manufacturer of Granite products such as granite tiles, slab, countertop, vanity top,paving stone, cobblestone, etc granite products , Especially, our granite countertop and vanity top have a good advantage in skill and Export Experience.
We also invest some factory such as Slate ,Sandstone, Travertine and Marble factory
Generally ,we can supply all kinds of stone products such as granite marble slate travertine, sandstone with competitive price and good service , by our working hard ,through our all team staffs.
Also We have rich experience for exporting our goods to USA, Canada, Mexico, Europe ,Australia etc,
03) Q: How to start our business with your company?
A: first, kindly view our website
Second, choose what you like, in items, colors, measurement
Third, Contact us ,then we quote the price for you
Fourth ,if you like to order our goods for your projects
You need tell us details including size, color, quantity , that would be better that you offer us drawing
Fifth ,if you just only like to start this stone business, don't worry, kindly tell your idea, we would have our experienced Staff to service you! We would tell you what is good popular items in your country and answer you all questions
Sixth: you just only tell us what you need, we can do best for you
04 ) Q: Can you offer us what is delivery time estimated ?
A: Depend the quantity, but usually it need takes around 15-20 days for producing upon we receive the deposit
05 ) Q: Which forms of payment do you accept?
A: We accept TT, and LC
TT (wire Transfer)--- 30%own upon signing contract, 70% paid before shipping
Also accept irrevocable L/C at sight
Western Union,Paypal or Credit Card is also acceptable.Please contact us for more details.
About Paypal:
Online Payment, Merchant Account - PayPal
PayPal is the safer, easier way to make an online payment or set up a merchant account.
www.paypal.com
06 ) Q: How to ship the cargos from our country to your city?
A: We have some good shipping partner help you take the cargos from our country to your Inland port or Sea port or Jobsites or Warehouses!
07) Q: Is your stone real and why is it so inexpensive?
A: All the stone products sold by our company are genuine stone, produced from the natural rock and are first quality. We are able to sell at such low prices because our material get from quarry directly, and the factory is opened nearly the quarry, also cheaper china salary.
08) Q: Does China Yeyang Stone ship worldwide?
A: At present, we ship container orders to worldwide from China. The options for shipping pallet quantities vary from product to product. Consult the FAQs by category for more details, or contact us by email.
09) Q: How do I obtain samples?
A: For samples we only charge for the courier cost of the samples which can be ordered DHL, UPS, TNT OR Fedex ground or Fedex Expedited. The rate will be calculated based on your address and the number of samples you order. We can return this courier cost if you order above two containers. Payment can be made by western Union or Wire Transfer(T.T)
10) Q. May I check the quality before the shipping?
A: yes ,welcome . you can come here or you ask your some friend in china to check the quality, then we ship it
11) Q: Is it possible to keep cargos as same color as sample?
A: No, stone is a natural material with naturally occurring variations in color, tone, granularity, pattern, etc, be allowed color Tolerance & Pattern
12) Q: Where is your main sale market worldwide?
A: Our products are highly level products, are mainly sold to USA, Canada, European country such as Germany ,UK, Spain,
Porgual France, and other countries etc., total 60 countries and area now
13)How Contact us with more channel?
Our Facebook.com
Company Page
:
https://www.facebook.com/yeyang.stone.manufacturer
Our Twitter.com
Company Page
:
https://twitter.com/diy_countertops
Our Youtube.com
Company Page
:
https://www.youtube.com/channel/UCc1xdoKljuLqRshFz9FCisw/feed
Our Google Blog
Company Page
:
http://xmyeyangstone.blogspot.com/
Our Google+
Company Page
:
https://plus.google.com/116931347572123440060/posts
Our Pinterest.com
Company Page
:
https://www.pinterest.com/ChinaCountertop/

Our Linkedin.com
Company Page
:
http://www.linkedin.com/company/xiamen-yeyang-stone-factory
Our
Flickr.com
Company Page
:
https://www.flickr.com/photos/134866618@N07/
Our Tumblr.com Company Page:http://china-stone-expert.tumblr.com/
Our
Instagram.com Marble Page:
https://www.instagram.com/new.marble.guide/
Our
Instagram.com Countertops Page:
https://www.instagram.com/countertops.design/
14)
In US market
Why choose us?
1. Rich manufacturing since 1993, now own 3 factories in big slabs, cut to size, countertops by granites and quartz;
2. 10 years' export experience especially in USA market;
3.Focus on US market with 75% export amount.
15)Q:Why Choose us?
1. Competitive Price:
As manufacturer ,we are competitive in price Meanwhile ,as local well known professional good support from other factories .We have been selling to more than 20 countries regularly ,critical market and most price competitive.

2. Multiple Products:
Our products variety is multiple, including Granite & Marble & Quartz Countertops ,Vanity tops ,Kitchen & Bathroom Counter top ,Big Slab ,Project Cut-To-Size, Tile, Stone Sink & Basin, Fireplace ,Mosaic, Paving Stone & Stairs ,Column , Sculpture ,Fountain, landscaping items..., and so on. So, no matter what kind of stone you need, even those which aren't included in our product catalogue, we could find them for you too, which is one of our advantages.
we are the only one company who has the family factories are also into the travertine, sandstone, artificial stones, paver stone, sculpture products and so on.

3. Quality Control
The quality of all products is under our control strictly, so we could make sure that what we offer to you is superior and quality product. From the beginning of production to the examination of finished goods, we all try our best to avoid any mistakes carefully.

4. Competitive Service
Since we specialize in importing and exporting all kinds of stone for a long time, we could provide full-service for you. We respect you, our customers, and your decisions, but it doesn't mean we wouldn't provide good suggestions for you. To concern what you concern; to provide what we should provide.

5. Custom Design
If you couldn't find the special specification you need, please contact us. We could make the specific product you want according your requirements.

Our effort and our clients
'
support make always the win-win business between clients and us, this makes both go further.
We sincerely welcome new potential clients to contact us, we will not only supply you the right materials based on your required quality with competitive price, but also provide you nice service via quick reaction with constructive solutions.

You will satisfy us from the beginning to the end
16)
Q:Which are common edge profiles & processing for countertops?
A:
These edge processing for us more often.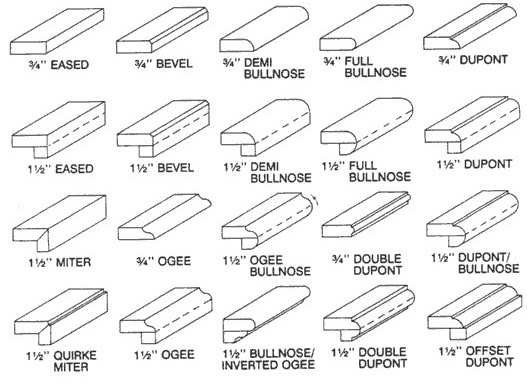 17)Q: I couldn't find what I need on your website, can you provide more others?
A:
Firstly, we were sorry for that. For that, it may because of the different name and keyword we use.
Second, we still have some products being in loading. For the guarantee of your browsing speed, we only display the hot selling items for moment. And some news are still in updating.
If you cannot find the products you want, just fell free to contact our service directly by sending email to ceo@china-stone-experts.com
18)
Q: How can I be guaranteed of the cargo quality?
A:
YEYANG Quality Idea: 1% quality defect is user 100% disaster, we have a perfect quality control system.
We have an experienced QC team with more than 25 people. They will carefully detect the stone quality and specification piece by piece, monitoring every production process until packaging is complete, to ensure product safety into the container.
19)Q: Who should I contact if there is any problem with the products?
A:
For the quality problem, please take the pictures of the problem at first time, and reflect this issue with our sales. We will be properly handled, if necessary, we will do up, redo, and even refund.